How to Review All Points Medical Waste Stuart, FL
Desktop Computer
Click here and leave your review, including a description of your experience with All Points Medical Waste. Please be sure to click POST when you are finished.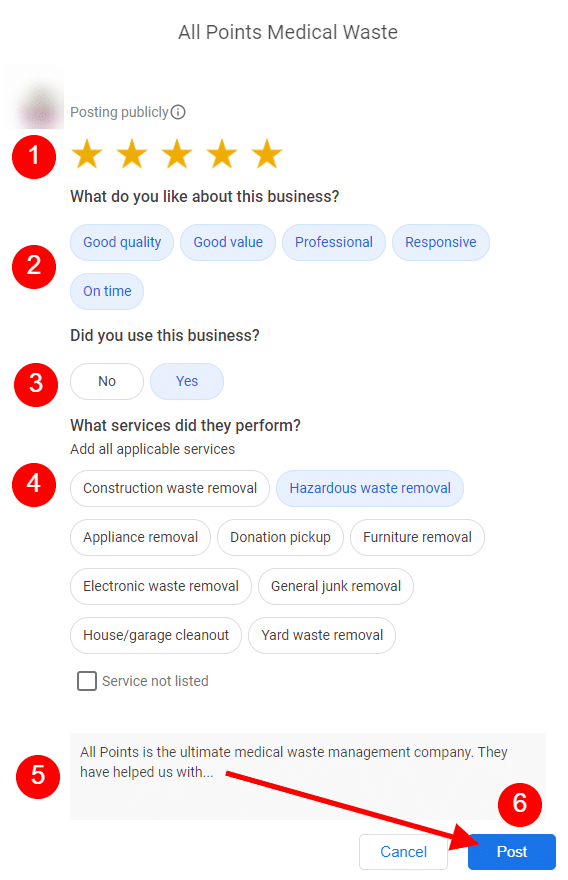 Mobile Phone
Click here, choose your star rating, and type a description to accompany that rating. Be sure to tap POST when done.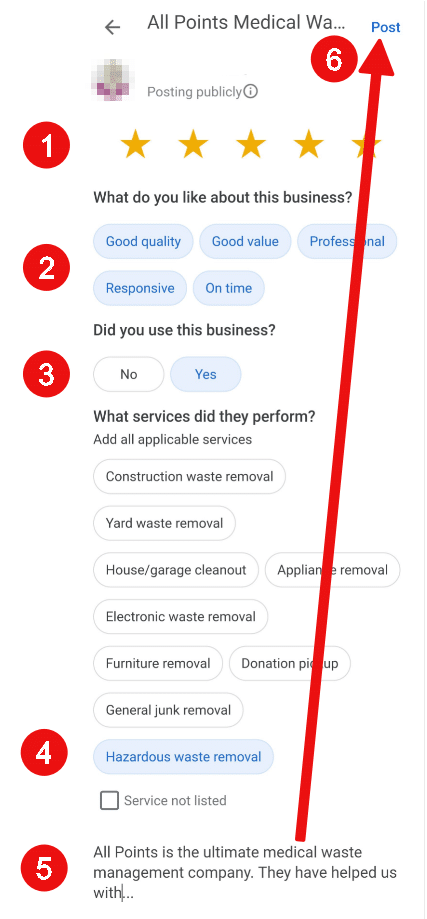 Click here. Under Do you recommend All Points Medical Waste, click Yes.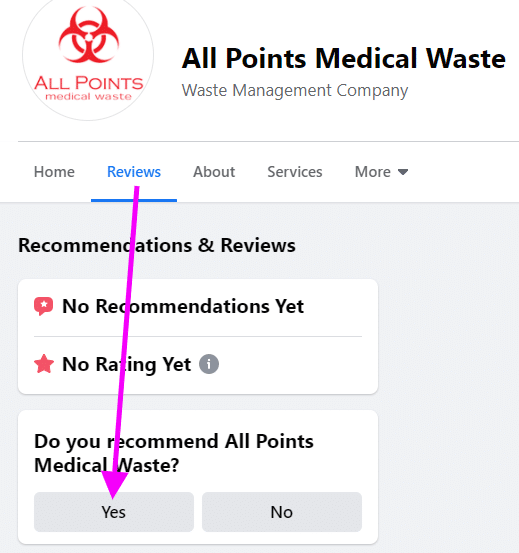 When the text box pops up, please write a description to support your recommendation. Be sure to click Post when you are finished.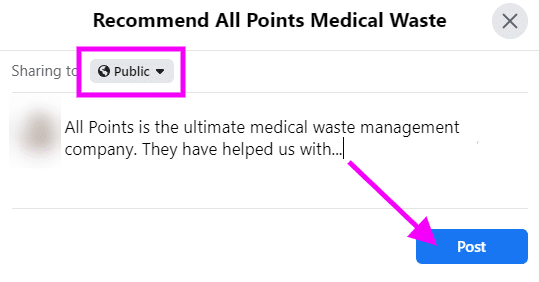 Click here. Under Do you recommend All Points Medical Waste, click Yes.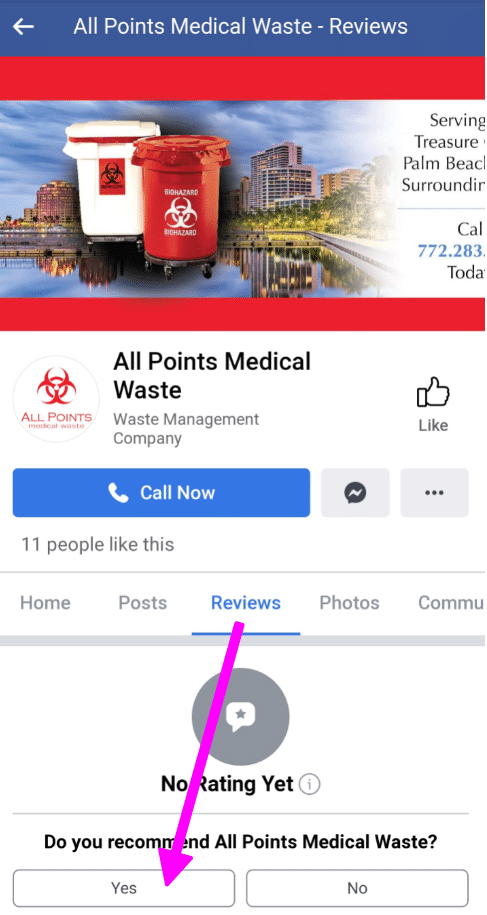 When the text box pops up, please write a description to support your recommendation. Be sure to post your comment when complete.
On a mobile browser, it looks like this: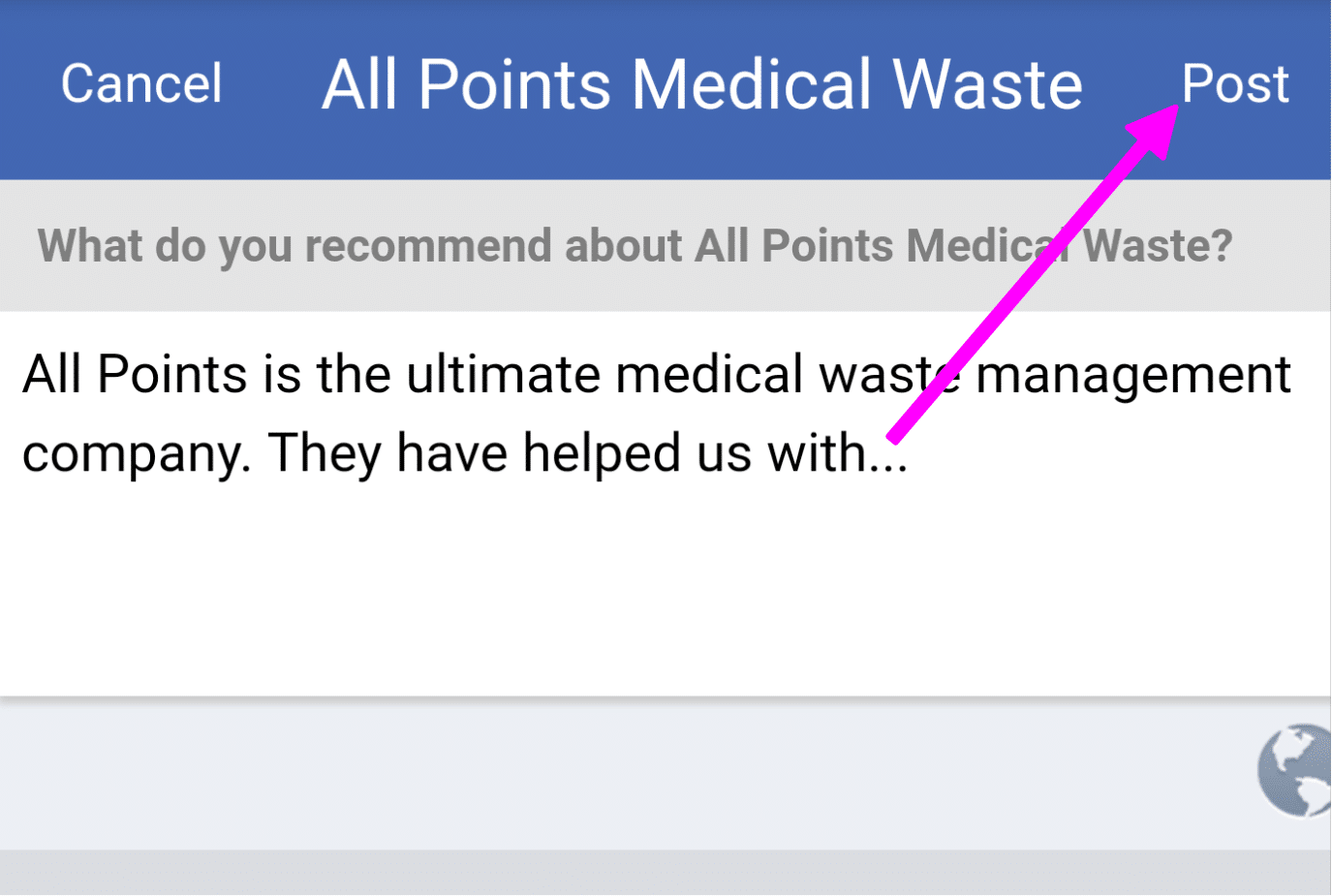 In the app, it looks like this: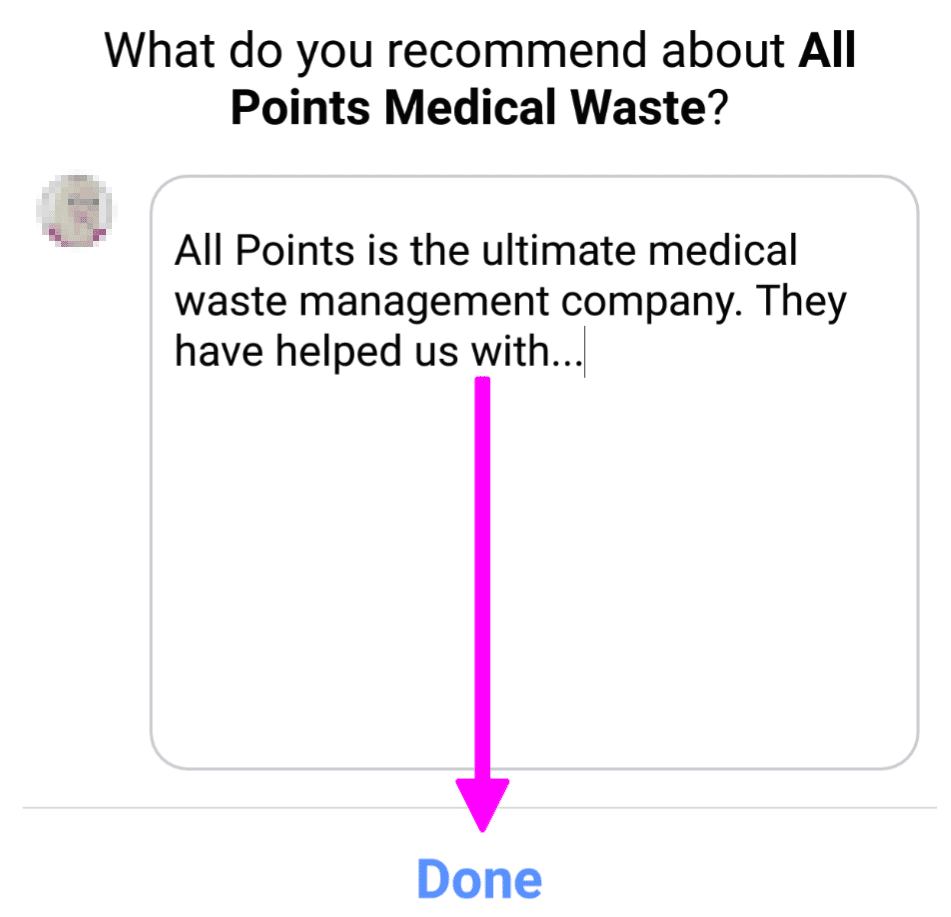 Allpoints was extremely responsive to my needs. I just opened a new practice, and they made setting up the handling of medical waste easy and seamless. They also do our business shredding; The cost is reasonable and they are timely with their paperwork and follow up. Makayla was easy to work with and adjusted the timelines to meet my needs. Overall I was impressed and am highly satisfied with their service.

The medical practice I work for uses this company. Matt, who picks up our medical waste is very professional, always neat and clean in appearance. Friendly but doesn't waste our time or his. Highly recommend them.

From South Florida Orthopedics

I have the pleasure to have worked with this company for a 6 years now. They always come on time and when we call. I appreciate that fact they always true and keep our company safe. Thank you All Points for all that you do!!

Matt is awesome! Always friendly, on-time, professional and smiling!

TC Bioidentical
1616609299
Matt, our representative is so kind, polite and we love the service we get.

Colleen Hassler
1616608886
Matt is always professional and nice when he's at our office. You have a great employee!

Debra Eddington
1616601267
Always courteous and professional! Great service 🙂


Denisha Dieuvelle
1616009118
From : Physicians To WomenWe have used this company for many years to say that we are very satisfied is an understate. They do amazing job with us and are super friendly.Also, a special thank you to Matt who goes above and beyond to keep us happy!

We use all points medical waste at Day Medical Center. We have always been very happy with their service professional, quick, reliable. Especially Matt is our tech that comes out. very happy with his service very nice and professional. Definitely recommend.

We have been using All Points for about 2 years and have no complaints at all. Matt is always helpful and friendly when he comes in. 5 star!

We use All Points for our medical waste and we couldn't be happier . Rich and Matt are always friendly and very professional.

Nataly Brockway
1615320068
All Points Medical Waste is an excellent company! They are prompt, professional, and always take great care in making sure our hazardous waste is removed in a safe manner from our facility.Thank you All Points! -Aqua Plastic Surgery

Tringali Vibrant Health
1615306563
Matt is always reliable and professional

Our medical waste guy for our office is Matt and he has always been so respectful & professional every single time. Great Job Matt!!!

The gentleman that comes to xpress urgent care psl location is very respectful and professional when he comes to the office. He is careful with removing our supplies and does it in a timely manner!
Next Reviews